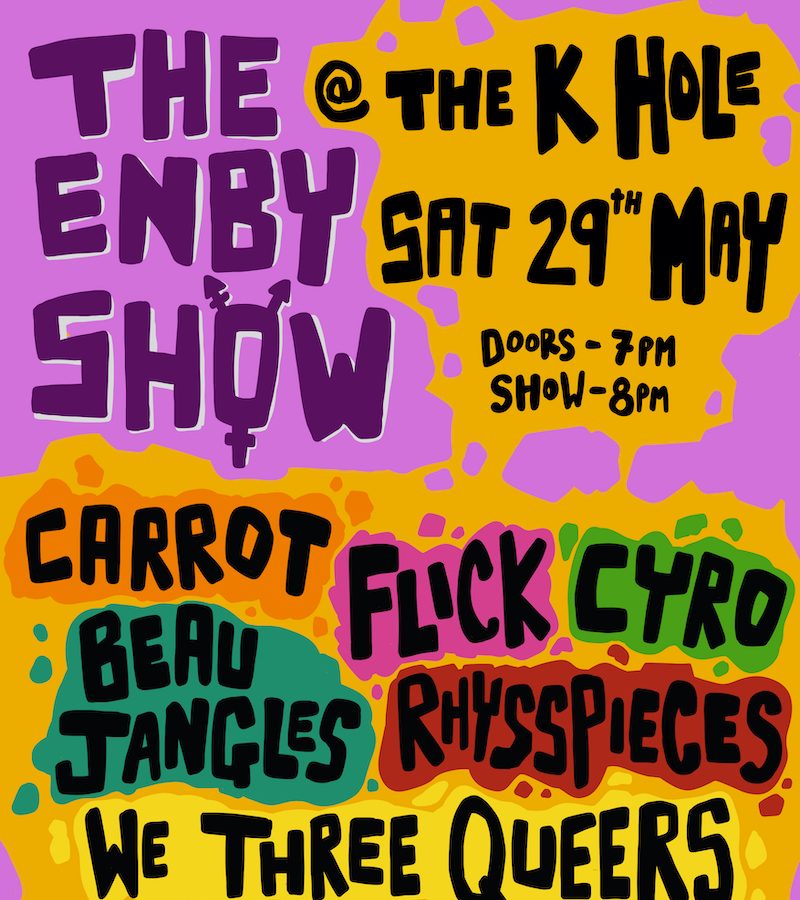 The Enby Show!
As recommended by TimeOut London…The Enby Show
Featuring the creme-de-la-creme of enby (non-binary) performers, The Enby Show is a gender-bending variety show that bins the binary all together. You can expect live singing, group acts, drag, comedy and plenty of unexpected surprises in this evening filled to the brim with the brightest enby stars that the UK has to offer.
Put on your best non-binary finery and prepare to experience enby envy like never before, in this show featuring…
Rhys's Pieces, stunning genderf*cker, rapper, dancer, LipSync1000 winner, member of iconic group The LipSinkers and legend of the London queer cabaret scene…
Beau Jangles, the f*ckboi of your great-granddaddy's generation, live singer and drag entertainer, giving us some super sultry serenading…
Your host Carrot, the non-binary drag vegetable from space described by TimeOut as a "ginger fever dream"…
PLUS incomparable performances by the members of We Three Queers (CYRO, Flick and Carrot).
COVID Safety measures
Tickets are sold by the table. Tables cannot be comprised of more than two households. No mingling between tables.
All customers must remain seated unless using the toilet, and observe social distancing of 1m+ at all times.
Face coverings to be worn by all customers when moving through the venue.
Book a table!
See All
}