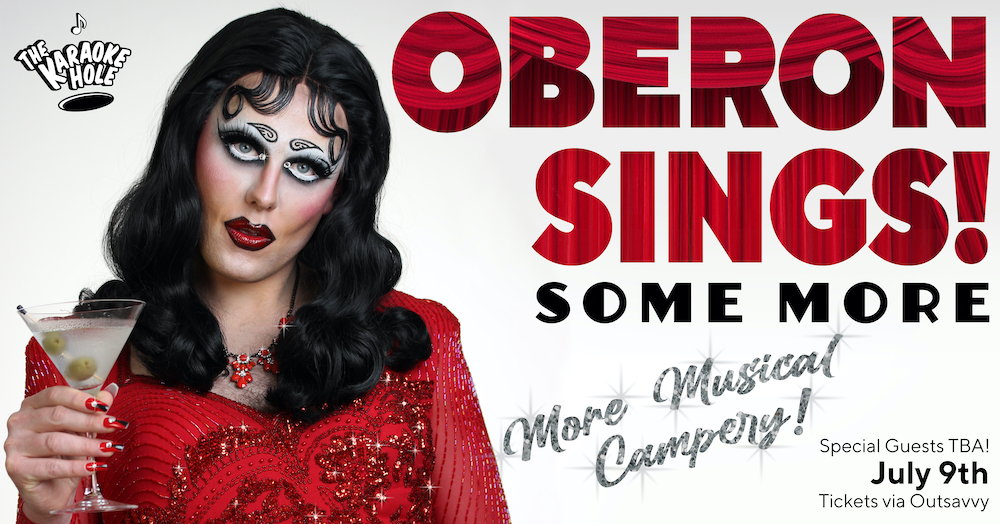 Oberon Sings! Some More!
Oberon Sings! Some More!
That's right folks, Dalston's very own avant-garde chanteuse Oberon White is taking The Karaoke Hole by storm, with her deluxe, musical, Fagstravaganza!
🎶 More Camp Showtunes! 🎶
🎶 More Iconique Pop Classics!  🎶
🎶 More Queer Shenanigans! 🎶
🎉 Fabulous Extra Special Guests TBA! 🎉
From 'A' for 'Abba' to 'Liza' with a 'Z' Oberon will be belting out the full musical alphabet of songs sacred to all good 'Friends of Dorothy'.
Gather your chosen huns, book your table and get ready for an evening of vibes and vibrato with Oberon White and a bevvy of East London's finest drag talent.
Anyone for a cocktail? Chin chin!
Tickets are strictly limited so grab yours while they last!
❤️🖤❤️🖤❤️🖤❤️🖤❤️🖤❤️🖤❤️🖤❤️🖤❤️🖤
Doors: 7pm
Show: 8pm
🖤❤️🖤❤️🖤❤️🖤❤️🖤❤️🖤❤️🖤❤️🖤❤️🖤
'The most surprising, powerful hit… an exquisitely crafted descent into the strange…. I have never seen anything like it.'
– This Is Cabaret
'A masterclass in precision and their craft is phenomenal.'
– Scotsgay
'Interesting as Hell'
– Londoncitynights.com
COVID Safety measures
Tickets are sold by the table. Tables cannot be comprised of more than two households. No mingling between tables.
All customers must remain seated unless using the toilet, and observe social distancing of 1m+ at all times.
Face coverings to be worn by all customers when moving through the venue.
Book a table!
See All
}